Northern Garrett High Girls and Boys Cross-Country Teams Win State Championships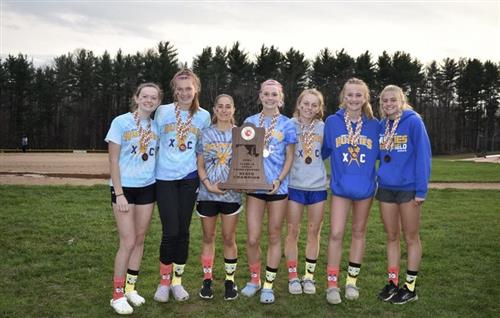 The Northern Garrett Girls Cross-Country team captured their third consecutive 1A state title on Saturday at Hereford High School. The team put up a total score of 52 points, bettering the second-place team, Smithsburg, by 45 points. The team boasted 6 All-State performances on Saturday. All seven of the team's runners finished in the top 35. In fact, Northern had all seven of their runners finish before any other team had four finishers. Another mark of a remarkable team is the time between when their first runner and fifth runner finished, known as the spread. Solid teams have a very small spread or time gap. Last year, the Huskies' spread was the lowest in the race at 2:33. Saturday, the girls' spread was 1:14.
Sophia Brown earned All-State honors for the third time, placing 8
th
at 21:50. Lydia Nelson was right behind her in 9
th
at 21:53. Danika Krause ran a phenomenal last mile, earning a 15
th
place finish with a time of 22:47. Running right with her in a tight pack were Kaylee Bowser (18
th
at 22:58), McKenzie Upole (20
th
at 23:05), and Isabella Yoder (21
st
at 23:16). Leah McKenzie had an absolutely fantastic race to put the team's full strength on display, garnering a 33
rd
place finish at 24:38.
During the season, the girls were able to capture seven team championships, winning their first Area Championships as well as the I-270 Rush Hour Rumble at Urbana High School, and the 1A West Regional Meet. At the Frank Keyser Invitational held at Boonsboro High School, the girl's team was bested by eventual state runner-up Smithsburg by 5 points. From that point on, the team would not lose another meet and won 5 in a row to finish the season and 6 out of their final 7.
Girls Finishers
8th Sophia Brown 21:50 All-State (3rd time)
9th Lydia Nelson 21:53 All-State (2nd time)
15th Danika Krause 22:47 All-State (1st time)
18th Kaylee Bowser 22:58 All-State (1st time)
20th McKenzie Upole 23:05 All-State (2nd time)
21st Isabella Yoder 23:16 All-State (1st time)
33rd Leah McKenzie 24:38
Girls Team Standings
1st Northern Garrett 52 points
2nd Smithsburg 97 points
3rd Fallston 104 points
4th Southern Garrett 124 points
5th Mountain Ridge 146 points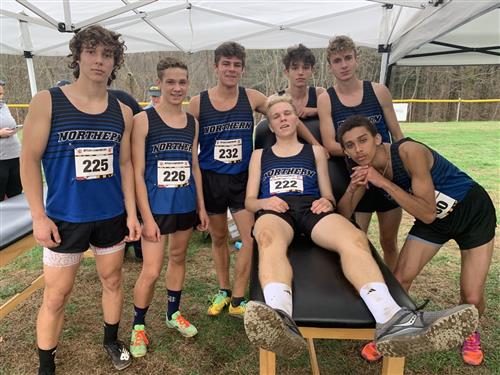 The boy's race was a much tighter affair. Edging out a very talented Catoctin team, the boys scored 78 points, to win by just 9 points.
Much like the girl's team, the boys relied on great depth and determination. The boys ended with a spread of 59 seconds from their first to their fifth runners. The team was able to put their fifth runner across the finish line before any other team would have their fourth runner finish.
The boys were led to the line by Ethyn Peck, finishing 6th at 18:22. Ashton Sober had an outstanding performance to grab 11th place at 18:38. Finishing 20th was Jayden Fike with a time of 18:54. Almost immediately behind was Matthew Yoder, running 19:04 for 23rd. DeVante Ross had an excellent race to finish 30th in 19:22. Ted Guingrich nabbed a 73rd place finish in 21:33. The gutsiest, most determined race of the day went to Josh Brobst, who battled through dehydration to cross the line in 81st. It was a showing of a runner fully devoted to his team refusing to give up no matter what. Four of the seven boys' runners netted All-State honors.
During the season, the boy's team captured only 4 team titles, but they were the last 4 meets of the season. They scraped out a very tight 5-point win at the 1A West Regional Meet over Catoctin and won the WestMAC title as well. Ethyn Peck won 3 individual titles during the season at the Broad Ford Invitational, the WestMAC Championships, and the Husky Pride Invitational.
Boys Finishers
6th Ethyn Peck 18:22 All-State (2nd time)
11th Ashton Sober 18:38 All-State (1st time)
20th Jayden Fike 18:54 All-State (2nd time)
23rd Matthew Yoder 19:04 All-State (1st time)
30th DeVante Ross 19:22
73rd Ted Guingrich 21:33
81st Josh Brobst 22:07
Boys Team Standings
1st Northern Garrett 78 points
2nd Catoctin 87 points
3rd Brunswick 104 points
4th Francis Scott Key 114 points
5th Fallston 122 points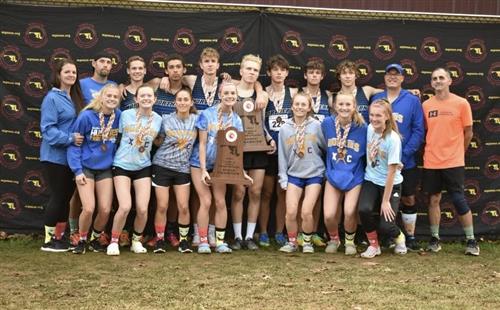 Just like last year, these state titles would not happen without great teamwork between the coaches of different sports at Northern Garrett High School. Coach Gregg Hostetler (girl's soccer) has been instrumental in his unwavering support of cross-country, going so far as to encourage his entire soccer team to run. Ten of the fifteen girls' team members are on the girl's soccer team. Coach Corey Durst (boy's soccer) has also been particularly supportive, with five of the eleven team members playing soccer. It is quite the endeavor and workload for those athletes. It would not be possible without the mutual regard and appreciation of two successful programs and coaches working together for the advancement of young athletes. This really is a story of coaches supporting one another and wanting what is best for their athletes.