𝐒𝐭𝐨𝐜𝐤 𝐌𝐚𝐫𝐤𝐞𝐭 𝐆𝐚𝐦𝐞 𝐓𝐞𝐚𝐜𝐡𝐞𝐬 𝐒𝐭𝐮𝐝𝐞𝐧𝐭𝐬 𝐭𝐡𝐞 𝐁𝐚𝐬𝐢𝐜𝐬 𝐨𝐟 𝐈𝐧𝐯𝐞𝐬𝐭𝐢𝐧𝐠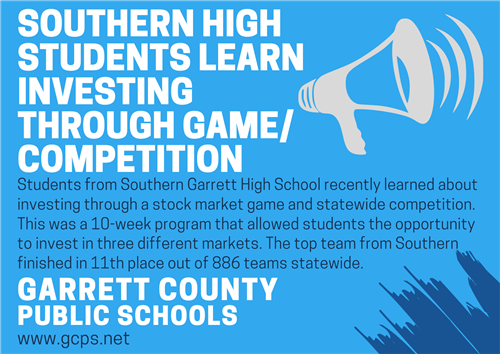 Southern Garrett High School students enrolled in Athena Wilson's classes recently participated in the Stock Market Game and proved once again that Southern Garrett High School students are undeniably a state leader in investing. "We had 10 teams involving 25 students who participated and benefited while learning investing skills and increasing economic understanding of the markets," stated Mrs. Wilson. Southern's team of Jesse James, Reagan Bernard, and Asher Spencer shattered 236 other teams in the North Region to secure a third-place ranking with equity of $111,691.13. Their team won a Statewide ranking of 11th place out of 886 teams.
Advanced Business Management, Advanced Accounting, and RAMS students participated in the Game. Hen Choo and Tyler Shaffer won 24th place in the North Region and other participants were Bryson Glotfelty, Kaylib Guy, Zach Brown, Aidan Wynn, Gage McClung, Landyn Yoder, Ayden Horvath, Rylee Bernard, Isaac Browning, Gracyn Upole, Aruzhan Amangeldi, Bruno Noland, Aiden Millar, Noah Ferguson, Brooks Mead, Tanner Haskiell, Jack Healy, Logan Tichinel, Nathaniel Maule, and Quentin Wood.
The game is organized by the Maryland Council on Economic Education (MCEE) and is sponsored locally by First United Investment Services. First United has sponsored teams locally for over 28 years and has seen multiple State and Regional winners from Southern Garrett High School.
All teams begin with an imaginary $100,000 and over a ten-week period invest in corporations on the New York, American, and NASDAQ markets in an attempt to increase the size of their portfolio. Preston Sharps, Senior Investment Advisor for First United Investment Services, presented investment concepts, such as risk vs. reward, diversification, and compares strategies for investing for the Stock Market Game with those used in real life. Then student teams formulate daily decisions about the direction of the markets; make choices about buying or selling corporate stocks; and enter trades on the internet. The excitement builds during the 10-week competition on a daily basis when students compare their team's portfolio, which shows how their team ranks compared to all of the other teams in the Maryland/DC region and their school system, as well as the current value of their stocks.
"A big thank you is extended to Preston Sharps and First United Investment Services for their sponsorship of this program," stated Athena Wilson, Stock Market Game Advisor. "We would not have this opportunity for our students without their backing and we are very proud of the way our students performed overall."
More information concerning the Stock Market Game can be obtained from Athena Wilson at Southern Garrett High School. More information about the MCEE and MCFL can be found on their websites at www.econed.org and www.mdfinancialskills.org respectively.