𝐑𝐨𝐛𝐨𝐭𝐢𝐜𝐬 𝐓𝐞𝐚𝐦 𝐆𝐚𝐂𝐨 𝟏𝟔𝟐𝟗 𝐖𝐢𝐧𝐬 𝐅𝐑𝐂 𝐂𝐡𝐞𝐬𝐚𝐩𝐞𝐚𝐤𝐞 𝐃𝐢𝐬𝐭𝐫𝐢𝐜𝐭 𝐐𝐮𝐚𝐥𝐢𝐟𝐢𝐜𝐚𝐭𝐢𝐨𝐧 𝐄𝐯𝐞𝐧𝐭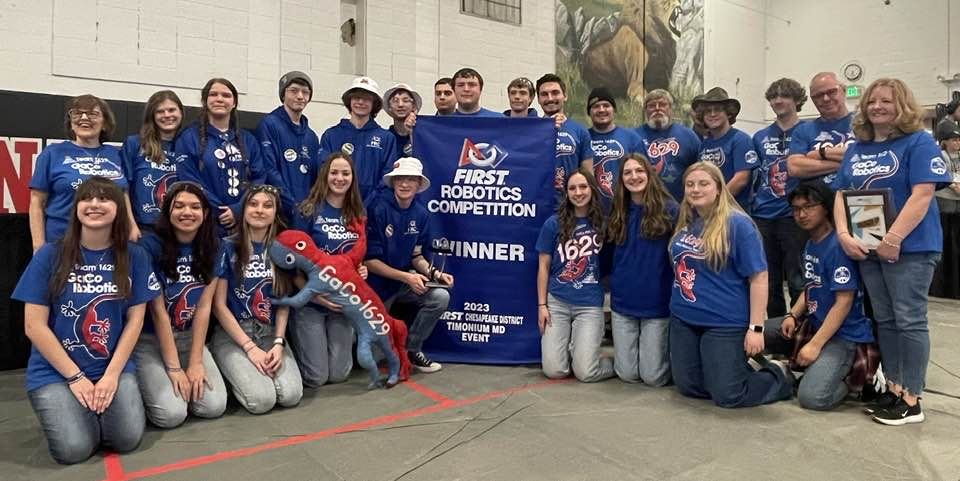 FIRST Robotics team GaCo 1629 has just returned from their second qualification event, which was held in Timonium, MD. The team was one of thirty-six (36) FIRST Robotics Competition (FRC) teams competing from the Northern Virginia, DC, and Baltimore Metro areas. The team ended up as the third (3rd) ranked team after playing 12 qualification matches. As a result, they were able to compete in the playoff matches as the Captain of the second (2nd) seed alliance out of eight (8) teams. The team worked all the way through the brackets to end up winning the event! This win secured advancement to the Chesapeake District Championship, being held April 6-8th, at George Mason University. Overall, the team was 14-3-1 in match play and they are currently ranked fourth (4th) overall among the 139 teams in the Chesapeake District.
Because the team won the Chairman's Award in Houston last year, they are not eligible to compete for the same award for 5 years. Additionally, they were not eligible for the Engineering Inspiration Award, (the second most coveted award in the FIRST community) due to previously winning that award at the first district Qualifier in Blacksburg, VA earlier this month. However, they were the recipients of the "Team Sustainability Award" this weekend. The Team Sustainability Award "Celebrates and recognizes a team which has developed a sustainable program in order to define, manage, and achieve the team's ongoing objectives."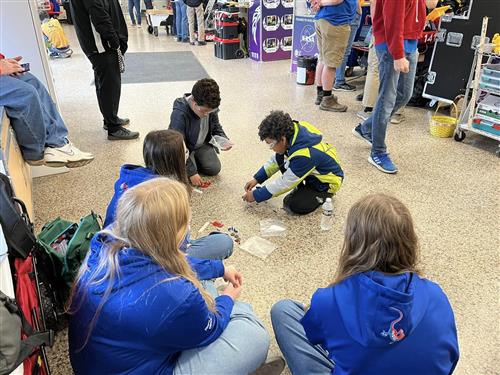 Overall, it was another amazing weekend for GaCo, GCPS, and Garrett County. Even with all the robot competition and judging, students were able to teach their STEM Waypoint lessons and perform STEM activities with younger students from the Baltimore/DC area who came with their parents as a spectator of the competition. Pictured are GaCo team members working with youngsters in the hotel lobby where they stayed. They were part of a U12 girls' travel soccer team staying at the same hotel as GaCo. "I'm sure getting excited about STEM in their hotel lobby was the last thing that these girls and their siblings were expecting over the weekend," said Chuck Trautwein.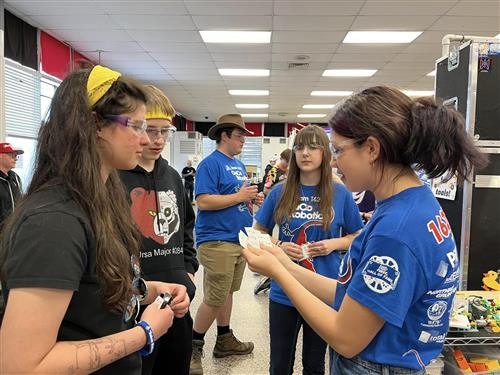 "Also, something else to make Garrett County very proud is Northern Garrett Freshman Mikayla Frazee teaching our lesson on Binary Numbers to two students from Hammond High School in Howard County," said Trautwein. "I put that up there with winning the weekend's competition." Sophomore Kiera Perando and Atlee Wise, GaCo Alum and Team Mentor, are also pictured.