𝐆𝐂𝐏𝐒 𝐈𝐧𝐭𝐞𝐫𝐢𝐦 𝐒𝐮𝐩𝐞𝐫𝐢𝐧𝐭𝐞𝐧𝐝𝐞𝐧𝐭 𝐀𝐝𝐝𝐫𝐞𝐬𝐬𝐞𝐬 𝐑𝐞𝐜𝐞𝐧𝐭 𝐂𝐨𝐧𝐜𝐞𝐫𝐧𝐬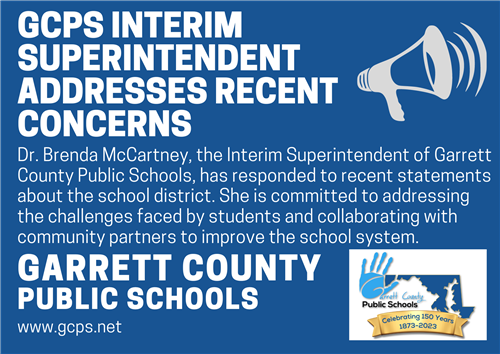 From the desk of Dr. Brenda McCartney, GCPS Interim Superintendent:
I have contemplated deeply whether to respond to the recent statements about the Garrett County Public Schools and have decided, as Interim Superintendent, that I must speak. Our local schools and schools nationwide are facing unprecedented challenges with students who need emotional/behavioral support. We have programs in place to support students and know that we must continuously evaluate and fine-tune those programs. That work is ongoing and ranges from reviewing and modifying our coordinated student services program, grant writing with community partners to provide added mental health services, developing community school expanded services through Maryland's Blueprint and professional development for our valued staff.
I look forward to working with Mayor Shaffer, along with elected officials from other municipalities, our county elected officials, and our partner community agencies to address the root causes of these concerns. I believe that many are working hard to address the scourge of drugs and the impact of income inequality within our community. I support those efforts and will continue to work collaboratively with these problem solvers.
Finally, I must address Mr. Gosnell's remarks about the school system's financial status. The recent resignation of our finance director has nothing to do with financial transparency or financial practices. We went through a yearly audit as a school system, and the audit for the last school year, as in previous years, revealed no problems or surprises. Finance officers have many opportunities for employment and our finance officer left to pursue one of those opportunities. The finance officer supported the school system for many years in an honorable, professional fashion, and I wish her continued success.
I am proud to be the leader of the Garrett County Schools. I have seen firsthand the fine teaching happening in our classrooms, the smiles on children's faces as they are engaged in instruction or are at play, the expansion of opportunities from our youngest students to our high school students, and the fine leadership we have from the school level to the central administrative staff. That being said, we have a lot of work to do as a school system and as a community. Let's support each other in getting this work accomplished!
Thank you,

Brenda E. McCartney, Ed.D.
Interim Superintendent
Garrett County Public Schools